July 12, 2017, Emily Mongan, McKnight's Long-Term Care News - The average number of deficiencies per nursing home has dropped in recent years, but staffing levels are still falling short of what some experts recommend, according to a new report from the Kaiser Family Foundation.
Kaiser's "Nursing Facilities, Staffing, Residents and Facility Deficiencies" report, published Tuesday, outlines recent trends in skilled nursing facilities across the United States using data from the On-line Survey, Certification, and Reporting (OSCAR) system and Survey Provider Enhanced Reports.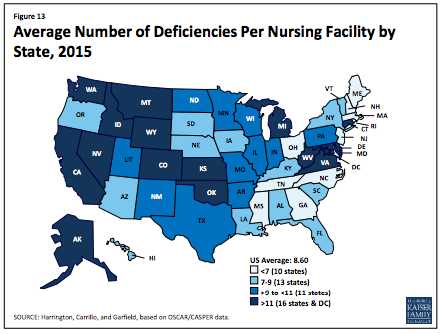 Among the findings: Data show that deficiencies, for the most part, declined in the 2009-2015 time frame.  Between 2009 and 2013 the average number of citations per facility fell from 9.33 to 7.28.  That average jumped back up slightly between 2013 and 2015, reaching 8.6 that year.
The percentage of nursing facilities that received no deficiencies followed a similar pattern, rising from 7% in 2011 to 8% in 2013, before dropping again to 7% in 2015.  In 2015 more than one-fifth of facilities had a deficiency for actual harm or Immediate Jeopardy, Kaiser found.
The most commonly cited deficiencies were reported in the areas of infection control, accident environment, food sanitation, quality of care and pharmacy consultation.
The report also showed ........ CLICK HERE TO READ MORE